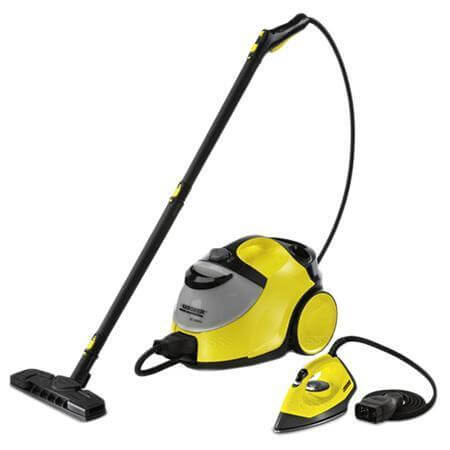 When it comes to home cleaning, we all want a cleaner that can do the best job possible. Something that utilizes both water and heat to make sure that our surfaces, appliances and rugs are kept clean and sterile in order to avoid the infections that stem from the bacterial content most of these crevices and home based utensils carry.
The Karcher steam cleaner is one such cleaner.
Manufactured by one of the most environmentally conscious companies in the world, this electrical cleaner, not only does its job well, but it makes sure that it does not harm the environment while it's at it.
All through this article, we are going to look at some of the reasons why you should buy the Karcher steam cleaner, why it is one of the best cleaners available in the market today and how the environment does not suffer simply because your house must stay as clean as humanly possible.
Now, of course there are many cleaners in the market today, all with very wonderful features and qualities.
When done here, it will be up to you, the consumer, to decide whether or not this cleaner is worth your time and just how valuable it can be to have around the house.
Karcher steam cleaner makes cleaning areas and surfaces a breeze
The first thing we need to ask ourselves is what kind of surfaces and areas you can use this steam cleaner on.
This is just the thing about this cleaning device, it is very adaptable and can be used on all sorts of surfaces.
Be it the kitchen floor, living room, kitchen appliances and most any other surface you can think of.
What makes it this highly versatile is the fact that it is very portable and has various specialist attachments that come with the device.
These attachments include but is not limited to:
Cleaning Terry cloths
The steam cleaner cleaning cloths
The steam cleaner window steam tool (with this all you do is simply attach it to your Karcher steam cleaner and you can easily and thoroughly clean all windows and glass surfaces)
Steam cleaner bristle rinks and brush sets (for all the different tough surfaces that require different types of hardiness)
Steam cleaner nozzle
Steam cleaner gun and hose
Steam cleaner floor tool
…And so many more different parts that can be purchased separately.
With all these different parts, all you have to do is attach to your steam cleaner and whatever surface or appliance you intend to clean will indeed be thoroughly cleaned.
As most people know, the kitchen tends to be one of the most important rooms in the house and yet it is the one that harbors most of the bacteria.
Your oven for example has seams and corners that keep grime tightly locked away making them the most conducive environment for infectious bacterial and fungal to breed.
This is why simply wiping these surfaces down is not enough.
How the Karcher steam cleaner works
The steam cleaner utilizes electricity to make steam thus thoroughly cleaning surfaces.
With just one liter of water, you can make up to 1.7 liters of steam.
All you have to do is pour in the water, choose the head most suited to the surface you want cleaned and turn the steam cleaner on.
Run it over the surface several times and use a cloth to thoroughly dry the steam off.
The Karcher steam cleaner is thoroughly effective in that, this 1.7 liters of steam produced from the one liter of water can be used to clean a standard sized flat.
You do not use too much power and neither do you need too much water.
The Karcher steam cleaner makes sure that every surface is cleaned thoroughly with every swipe and thus minimizing the number of times you need to repeat the process since the surfaces tend to stay cleaner for much longer.
One of the most beneficial features of this cleaning tool is that it is energy efficient.
It steams up much quicker than most home based appliances and stay hot for much longer.
With the various detachable nozzles, you can clean more surfaces and areas using the same amount of energy.
This is not possible with most cleaning devices.
For anyone looking for a detailed cleaner that has the suitable head for every surface, this is the cleaner to go with.
We all love our homes, and we all have different styles and designs that go with our personality traits or expensive taste.
Such precious surfaces as the kitchen counter could be made from very expensive marble or wood that we would not want scratched or destroyed by the cleaning detergents or machines.
This is where this steam cleaner excels.
The various specialized attachments allow for every possible kind of surface to be safely cleaned and most importantly, aesthetically preserved.
Furthermore, the safety features that come with all Karcher cleaners makes them some of the safest tools to use around the home. However, this does not mean that you should play around with them, no.
All it means is that this cleaner does not put you nor your family in any kind of immediate electric danger.
That being said, it is still very important to treat the device with every respect and care that an electrical device demands.
This is after all, utilizing the lethal combination of water and electricity. Other than making sure that the various different nozzles are properly plugged in before turning it on and also making sure that you are not operating the device with wet hands, you should be perfectly safe when using this device. Do not apply nozzles directly to your skin.
Most people look for the ultimate cleaner that can help them take great care of their precious homes.
A cleaner that is safe, effective, eco-friendly and easy to use.
Well, the Karcher steam cleaner is all this and more. Add all this to the fact that it is very affordable, even with the added on extensions, and this makes this steam cleaner one of the best cleaners available in the market today.